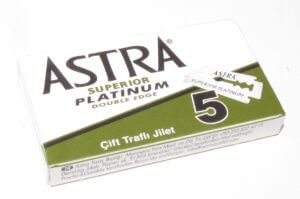 Introduction :
Widely known double edge blades made by Gillette. Astra superior platinum is a relatively sharp blade but not aggressive.
It is ideal for anyone with sensitive skin. Each blade is different from the another and this impacts the overall sharpness level.
Manufacturer : Gillette
Country: Russia

Packaging:
Cart box including 5 blades. Each blade has it's own singular paper card confection. See the photos below.
Photos :
Specifications :
Coating: Platinum
Angle: 16,3

°

– 16,8

°

Bevel: Single
Weight: 0.52gr
Microscope:
Angle aspect:

Imperfections:

Sharpness:
We have tested with our custom sharpness test tool 12 new razor blades.
Each blade was tested twice (24 cuts).
Mean(average)=5104 dg
Standard deviation=288
Notice the relative high standard deviation due to the heavy variation of each individual test.
Download ASTRA-Superior-Platinum sharpness test
SMOOTHNESS: 7/10
DURATION: 4-5 times
QUALITY: 9/10
VALUE FOR MONEY: 9/10
BUY : www.razorbladesclub.com

Conclusions :
Overall, a very good quality blade but with important variations.
VOTE: 7/10