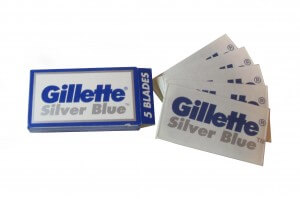 Introduction :
A reference blade for the DE blades. Silver blue is a well known industry standard blade with top quality.
Teflon coated sharp edge blade that offers repetitive results after each shaving.
The sharpness of the blade is above average with long durability.
Most suitable for expert users.
Manufacturer : Gillette
Country: Russia

Packaging:
Cart box including 5 blades. Each blade has double paper card confection. See the photos below.
Photos :
Specifications :
Coating: Teflon (PTFE)
Angle: 14,9

°

– 15.5

°

Bevel: Single
Weight: 0.52gr
Microscope:
Angle aspect:


Imperfections:


PTFE Coating:

Sharpness:
We have tested with our custom sharpness test tool 4 new razor blades. Each blade side of has been tested 3 times.
So we have 24 total cuts (4*3*2).
Mean(average)=5346 dg
Standard deviation=261
Gillette Silver edge are very sharp blades with really constant results (small variations).
Download Gillette-Silver-Edge sharpness test
SMOOTHNESS: 9/10
DURATION: 4-5 times
QUALITY: 10/10
VALUE FOR MONEY: 8/10
BUY : www.razorbladesclub.com

Conclusions :
Overall, a sharp blade with repetitive excellent results. A must try for experienced users.
VOTE: 9/10