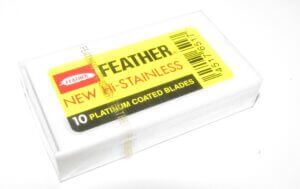 Intoduction :
A super sharp double edge razor made by highest grade of stainless steel.
Feather Hi Stainless razor blades made for passionate and expert persons.
Might be on expensive side of blades but you can use them more times than other blades.
Manufacturer : Feather Safety Razor CO. Ltd
Country: Japan

Packaging:
Plastic box including 10 platinum coated blades. The user should slide each blade from the top in order to extract it.
Each blade is wrapped with paper card.
The package also offers a deposit for the used blades.
Photos :
Specifications :
Coating: Platinum
Angle: 13.8

°

– 15

°

Bevel: Single
Weight: 0.56gr
Microscope:
Angle aspect:

Imperfections:
Sharpness:
We have tested with our custom sharpness test tool 12 new razor blades.
Each blade was tested twice (24 cuts).
Mean(average)=4332 dg
Standard deviation=296
Notice the extremely low decigram average value of these blades !
Download Feather-NEW-Hi-STAINLESS sharpness test
SMOOTHNESS: 8/10
DURATION: 10/12 times
QUALITY: 9/10
VALUE FOR MONEY: 9/10
BUY : www.razorbladesclub.com

Conclusions :
A very very sharp blade for persons with high precision needs.
VOTE: 9/10